Bowser The Hound in "What Happened To Bowser"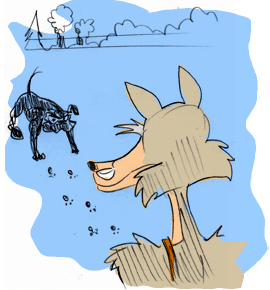 When a Coyote seems most honest,
watch him closest.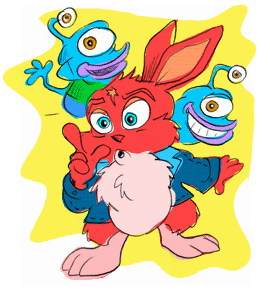 Bowser was very, very tired. He wouldn't admit it even to himself, for when he is hunting he will keep on until he drops if his wonderful nose can still catch the scent of the one he is following. Bowser is wonderfully persistent. So, though he was very, very tired, he kept his nose to the ground and tried to run even faster, for the scent of Old Man Coyote was so strong that Bowser felt sure he would soon catch him.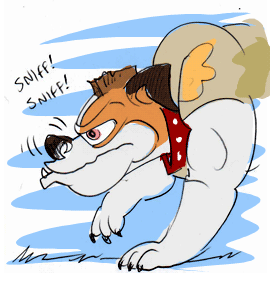 Bowser didn't look to see where he was going. He didn't care. It was enough for him to know that Old Man Coyote had gone that way, and where Old Man Coyote could go Bowser felt sure he could follow. So, still baying with all his might and making the hills ring with the sound of his great voice, Bowser kept on.
Hidden in a little thicket, stretched out so that he might rest better, Old Man Coyote listened to that great voice drawing nearer and nearer.There was a wicked grin on Old Man Coyote's face, and in his yellow eyes a look of great eagerness. In a few minutes Bowser came in sight, his nose in the trail Old Man Coyote had left.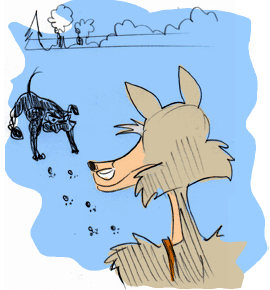 Into Bowser's voice crept a new note of eagerness as his nose picked up the scent stronger than ever. Straight on he raced and it seemed as if he had gained new strength. His whole thought was on just one thing catching Old Man Coyote, and Old Man Coyote knew it.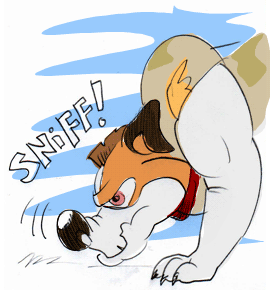 Bowser didn't see that he was coming to a steep bank. He didn't see it at all until he reached the edge of it, and then he was going so fast that he couldn't stop. Over he went with a frightened yelp! Down, down he fell, and landed with a thump on the ice below. He landed so hard that he broke the ice, and went through into the cold, black water.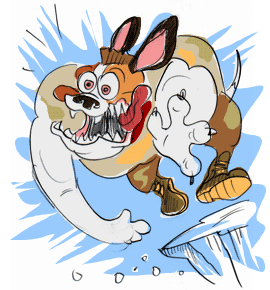 Old Man Coyote crept to the edge of the bank and peeped over. Poor Bowser was having a terrible time. You see, the cold water had taken what little breath his fall had not knocked out of him. He doesn't like to go in water anyway. You know the hair of his coat is short and doesn't protect him as it would if it were long.
Old Man Coyote grinned wickedly as he watched Bowser struggling feebly to climb out on the ice.

Each time he tried he slipped back, and all the time he was whimpering.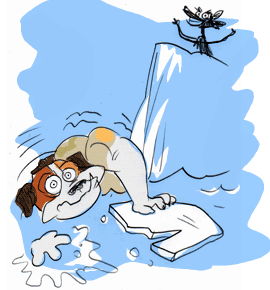 Old Man Coyote grinned more wickedly than ever. I suspect that he hoped that Bowser would not be able to get out. But after a little Bowser did manage to crawl out, and stood on the ice, shivering shaking. Once more Old Man Coyote grinned, then, turning, he trotted back towards Farmer Brown's.